Welcome to the Dave Crumpler music website! 

Acoustic singer/songwriter Dave Crumpler has played countless acoustic venues from Williamsburg to Virginia Beach since 2002. His personal acoustic style blends cross-picking, finger style, flat picking and rhythm techniques with influence early on from James Taylor and Neil Young. Dave usually teams up as an acoustic duo playing tasty acoustic arrangements with flat picker Mike Glass.

Based in Yorktown, Virginia, Dave brings enthusiasm and love for acoustic guitar to every show. His eclectic play list offers classic rock, alternative & modern rock, country, Irish pub songs, several Spanish language songs and select originals. With this variety Dave tailors the music to the crowd on hand. View or download the current song list using the Song List "button" on the website.
Initially a solo artist, Dave transitioned to an acoustic duo format in 2012. In 2014 Dave and Mike Glass of The Delvers began playing to great crowd response; pushing him to continue promoting this duo. He also frequently pairs up with local acoustic artists Kevin Blatnik and Richie Beard with similar success. From 2012 to 2013 Dave performed with tenor sax player Mike Sykes, currently on hiatus.
Dave hails from a musical family and purchased his first (Aria) acoustic guitar at age 15 from Temple of Music in Hampton, Virginia. Never taking lessons, he taught himself chords, picking patterns and developed a good ear for learning tunes by playing along with radio, records and friends. While in college at Old Dominion University, he jammed with buddy Steve Perez who currently lives near San Francisco and continues to perform.

How and why did Dave start playing professionally? In 2002 Dave accepted a challenge from a conga player to learn enough material to form an acoustic duo. Within two months Dave learned to play and sing nearly 60 songs and purchased his first PA system. His first paying gig was The Jolly Frog in Virginia Beach with the conga player. In early 2003 the duo dissolved. This proved to be the moment Dave would press forward as a solo acoustic artist. He has never looked back and continues to enjoy the musical adventure.

Songwriting is a huge attraction for Dave, and he continues to work on arranging his days to include more time devoted to that process. You can check out the posted demos "Matters" and "Set the Hook" on the website. Dave performs three originals live on air 02-15-2015 on Hunter at Sunrise accompanied by Mike Glass. See the link below to listen to the podcast!

Dave plays and performs on Takamine guitars. Sound gear includes the Bose L1 System II amplification system, Fishman SoloAmp, and Yamaha powered head. Everything is well suited to push sound through any room or venue at the appropriate volume.

Visit Dave on Facebook at www.facebook.com/davecrumpler and follow him on Twitter @DaveCrumpler . 

Peace!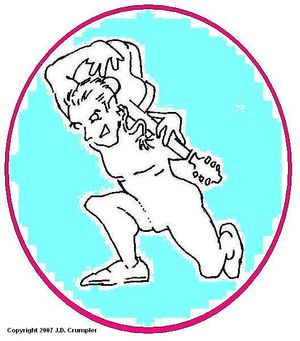 Dave Crumpler Interview on Hunter at Sunrise
Live on air interview by Hunter Hughes at Hunter at Sunrise Feb 15, 2015. Performing three original compositions and accompanied by Mike Glass for an acoustic duo presentation.
56.2 MB